Grid-ML XML Schema Viewer
A lightning fast and intuitive tool for viewing and searching XML Schemas.
Grid-ML XML Schema Viewer is a fast and intuitive tool for viewing and searching W3C XML Schemas (XSD). It searches names, comments and enumeration values. Once found, the data path and its definition can be easily copied and pasted into any document or spreadsheet.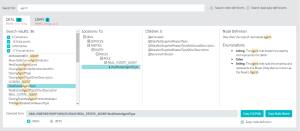 When the target word or phrase has multiple possible matches, Grid-ML shows the locations of all data items in an uncluttered, hierarchical schema view. The business analyst can quickly drill down to the relevant locations to search deeper. The search results can be filtered to show just container elements, data point elements, attributes, and enumerations. The search can also be set to include or exclude data types and definitions.
Working with large data models can be frustrating. We get it.
Nowadays, it is common to find data exchange models with thousands of data points. That is more than any person can learn. Even the most experienced analysts have difficulty remembering how each piece of data is represented in a given industry standard.
Business analysts spend a considerable amount of time searching various data models to understand how the data is structured, how it relates to previous versions of a model, and how to map the information to their systems.
Those factors lead to increased development costs, hard-to-find errors, unexpected rework, and project delays.
Generic tools are not adequate.
Full-blown XML editors like XMLSpy® and Sparx EA are good for creating schemas but are not aimed to help you search and discover. The graphical view is not adequate for large schemas and the XML view is too technical for most business users.
Likewise, MS Excel is not setup for dealing with hierarchical data, the search process is slow, and the search results are difficult to visualize.
Benefits
Facilitates the communication between teams and partners by allowing everyone to easily access all the information about each data point.
Facilitates the development and maintenance of data interfaces.
Reduces the time needed to develop data mapping and business rules specifications.
Reduces rework by improving the accuracy of the specifications.
Reduces ramp-up time needed for team members to learn a data model.
Use Cases
Search and visualize data models.
Create specifications for mapping data between industry standards and proprietary schemas.
Create specifications for data validation and business rules.
Compare different versions of data standards and reference models.
Industry Standards
Grid-ML works with proprietary schemas as well as industry data standards such as:
MISMO XML (Mortgage Industry Standards Maintenance Organization) is the standards development body for the mortgage industry. Grid-ML XML Schema Viewer allows you to load and visualize all versions of the MISMO XML schemas.
UMDP - The Uniform Mortgage Data Program® (UMDP®) is an effort undertaken jointly by Fannie Mae® and Freddie Mac® at the direction of the Federal Housing Finance Agency to enhance data quality and standardization. Grid-ML supports UMDP published schemas including: ULAD (Uniform Loan Application Dataset), UAD (Uniform Appraisal Dataset), UCD (Uniform Closing Dataset), and ULDD (Uniform Loan Delivery Dataset).
NIEM (National Information Exchange Model) is a common vocabulary that enables efficient information exchange across diverse public and private organizations.
ACORD (Association for Cooperative Operations Research and Development) is the global standards-setting body for the insurance and related financial services industries.
Grid-ML also supports advanced W3C® XML Schema (XSD) features, including: namespaces, prefixes, groups, includes, imports, and redefines.
Grid-ML XML Schema Viewer
A lightning fast and intuitive tool for viewing and searching XML Schemas.